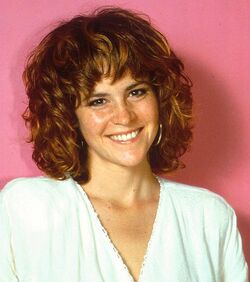 Alexandra Elizabeth "Ally" Sheedy (born June 13, 1962) is an American film and stage actress, the only cast member in Breakfast Club, as well as the author of two books.
Following her film debut in 1983's Bad Boys she became known as one of the Brat Pack group of actors in the films The Breakfast Club (as Allison Reynolds) and St. Elmo's Fire.
She is also known for her roles in:
Short Circuit and High Art, for which she received critical acclaim.
External Links
Edit
Ad blocker interference detected!
Wikia is a free-to-use site that makes money from advertising. We have a modified experience for viewers using ad blockers

Wikia is not accessible if you've made further modifications. Remove the custom ad blocker rule(s) and the page will load as expected.